Welcome to Lyndhurst Garden Centre website!
Here at Lyndhurst, we have everything to satisfy your gardening needs. we have an extensive range of all varieties of plants, trees and shrubs constantly in stock, along with a large giftware range for that special occasion and a good homeware selection.
We have a coffee shop which serves hot meals, or light snacks and a wide range of beverages, also serving a large variety of ice creams and sundaes.
Do ask us about anything about gardens, plants and equipment; if any of us does not have an immediate answer for your question then we will find someone who does.
We are here to assist you! Click here to meet our team....
January Sale
Loyalty Card
Your tools are your best friends in the garden. They'll stand by you through thick and thin: they're the first things you reach for at times of trouble, and your companions through your greatest triumphs.
Well-made, good-quality tools like those you'll find in our Skegness garden c…
Read more
Subscribe to our newsletter
Join many of our other garden centre visitors who regularly enjoy the benefit of receiving the latest amazing deals on offer, directly to their e-mail.

We will send our exclusive e-mail vouchers, garden related news and events to you every two weeks, so keep an eye out and check your e-mails regularly
PLANT OF THE WEEK: SNOWDROPS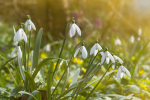 The sight of brave little snowdrops pushing their way through the frostiest ground gives every gardener new hope. Once the first porcelain petals have opened you know winter aconites and crocuses aren't far behind: before you know it every inch of soil is bursting with dainty colour and the gardening year has begun.
Give snowdrops dappled shade in soil enriched with compost or even better, leafmould – autumn leaves rotted down for a year or two to mimic the woodland floor snowdrops love. Snowdrops make beautiful partners for winter shrubs like dogwoods and witch hazels, and other spring flowers including hellebores, winter-flowering aconites and Cyclamen coum.
Go on a snail hunt
Stacked plant pots are favourite hibernating places for snails so now is a great time to unstack them and check them over for tightly-packed clusters of sleepy molluscs. Get rid of them now and you'll drastically reduce the damage in spring.