Welcome to Lyndhurst Garden Centre website!
Here at Lyndhurst, we have everything to satisfy your gardening needs. we have an extensive range of all varieties of plants, trees and shrubs constantly in stock, along with a large giftware range for that special occasion and a good homeware selection.
We have a coffee shop which serves hot meals, or light snacks and a wide range of beverages, also serving a large variety of ice creams and sundaes.
Do ask us about anything about gardens, plants and equipment; if any of us does not have an immediate answer for your question then we will find someone who does.
We are here to assist you! Click here to meet our team....
Lyndhurst Country Park
Loyalty Card
Holes in the lawn can be caused for all sorts of reasons. Too much traffic, especially at times of drought or extreme wet, can wear the grass out; an over-enthusiastic session with the lawnmower can 'scalp' the grass; or you might have recently dealt with a weed or moss outbreak, leaving weed…
Read more
Subscribe to our newsletter
Join many of our other garden centre visitors who regularly enjoy the benefit of receiving the latest amazing deals on offer, directly to their e-mail.

We will send our exclusive e-mail vouchers, garden related news and events to you every two weeks, so keep an eye out and check your e-mails regularly
Plant of the Week: Roses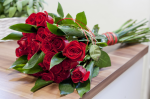 'A rose by any other name would smell as sweet', said the Bard, and whatever name they go by roses undeniably take the prize for the most delicious scent in the garden. Perfume adds yet another dimension to a flower already blessed with perfect petals in a kaleidoscope of romantic colours.
Since it's prime rose-planting time right now you've got the perfect excuse to add to your collection. From palest pink climber 'Madame Alfred Carriere' to swoon-inducing Bourbon rose 'Madame Isaac Pereire', there are dozens of roses which major on scent – so fill your garden with sweet, spicy perfume this summer!
Make life prickly for mice
Mice adore broad bean and pea seeds and snaffle them the moment you sow them outdoors. To keep them off, lay a thick mulch of holly prunings over the newly-sown seeds: remove it as soon as the seedlings appear.